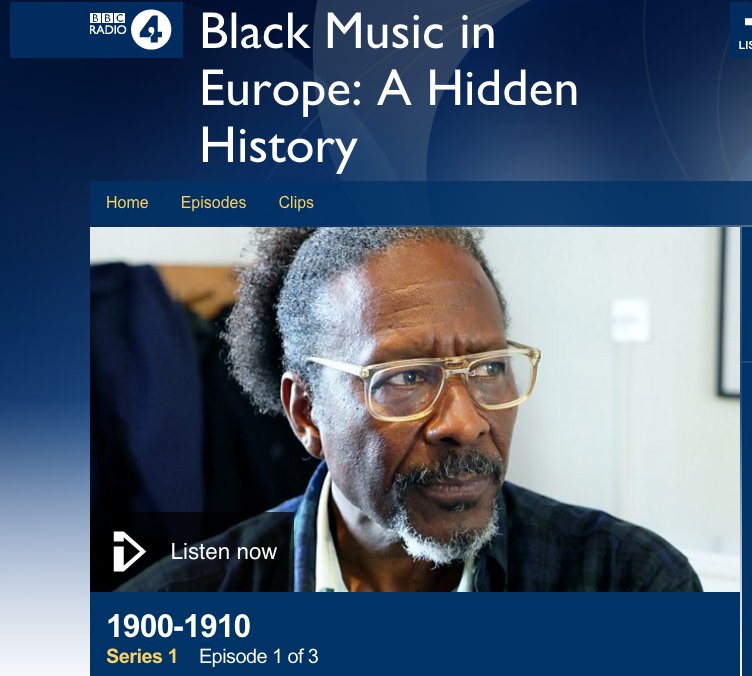 The current BBC Radio 4 series
hosted by the engaging Clarke Peters, introduces a treasury of recordings illuminating the social history of Europe.
The first series covers the period from 1900 to 1930—notably Black Europe, a richly-documented 44-CD set from Box Family Records.
From the series website:
Received wisdom has it that black popular music arrived in Europe with the Empire Windrush in 1948, but Clarke brings us black sounds recorded in Europe from as far back as 1900.
Programme 1: Focusing on early commercial discs made in the recording studios of London, Paris and Berlin, we hear from dozens of different performers, including African American travelling entertainers, traditional African musicians, black British classical composers and more.
Clarke discovers a huge variety of black music recorded in Europe at the start of the 20th century, including very early examples of blues harmonica, scat singing and stride piano. The programme also includes some of the earliest African music ever recorded, from Senegalese war songs captured at the Paris World Fair in 1900 to the music of a troupe of Congolese pygmies who toured Britain in 1905-07.
Programme 2: Clarke explores the music of black Europe at the time of the First World War. The sounds of what would become jazz start to emerge, including African American banjo bands who entertained London high society, and the military music of Harlem bandleader James Reese Europe which enthralled France. The programme also includes music by captured African Prisoners of War, recorded in camps across Germany.
Programme 3: Clarke explores the sounds of Zonophone records, a pioneering label that recorded a huge amount of early African popular music. Many of these discs were made in London for export to West Africa, including several Nigerian hymns recorded in 1922 by Fela Kuti's grandfather. The programme also includes the sounds of African American jazz in 1920s Paris, especially the work of Josephine Baker, the world's first black superstar.
For James Reese Europe and the Harlem Hellfighters, see also
and this short Channel 4 feature.
Series 2 and 3 are now available, taking the story through World War Two, the 60s, and the 70s—antecedents of what even then was still not called "world music". These programmes too are full of gems, such as hot jazz in Weimar Berlin, calypso in Cardiff Bay; underground bands in Hitler's Germany, black American trumpet stars in occupied Paris, Caribbean swing bands playing through the Blitz in London; and in the post-colonial era, on to Ambrose Campbell and his West African Rhythm Brothers, Sterling Bettancourt, Lord Kitchener, and the emergence of the Notting Hill Carnival sound; Ghanaian highlife, Congolese rumba from Brussels, Algerian chaabi in Paris, Surinamese jazz from Holland, the songs of Cape Verde—and black flamenco. To Name But A Few…
Leading us to the Shanghai jazz scene, here's Sam Wooding's Orchestra playing Shanghai shuffle in 1925 Berlin:
For Algerian chaabi, here's Dahmane El Harrachi's Ya rayah:
And here's Ronald Snijders live:
All these diverse cultures have made up a major part of European social history over the last century. It's a really ear-opening series, providing many leads to explore.