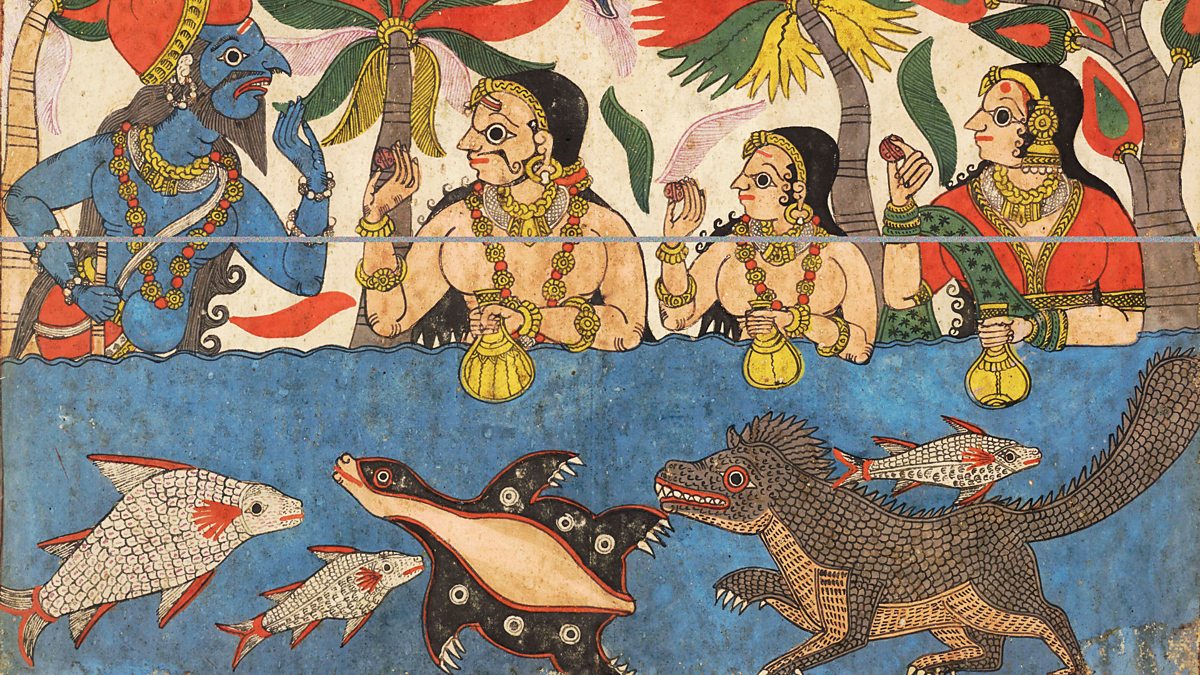 Radio 3 doesn't seem to be speaking to Radio 4.
Like Neil MacGregor's thoughtful series on German history, his new BBC Radio 4 series Living with the gods is typically urbane and engaging. As he immediately disarms my reservations about material culture and museums, the series makes an accessible mission-statement for the anthropology of religion. And the BBC Radio 3 marathon Sacred River (see also the love-in on https://twitter.com/bbcradio3), the latest of many epic broadcasts, seems like a fine idea to complement it.
I'm most reluctant to cavil at my favourite radio station, and normally I'd be grateful for such a playlist of glorious music (cf. my paeans to the Proms). But it seems something of a retreat from the global perspective of MacGregor's series. Whereas in Living with the gods he can discuss social contexts, with music examples making evocative soundbites, it's proved less easy for a programme of "spiritual music" tailored to a Radio 3 audience to address world soundscapes within their regional societies.
Radio 3 is generally rather good on, um, world music (a tradition going right back to David Munrow), but here Neil MacGregor's stimulating introduction is soon deflated, as one "masterpiece" of (let's face it, Christian Europe) WAM choral music follows another. My own blog is full of Bach, Mahler, and Messaien—but in Sacred river, whereas one might wish for more challenging juxtapositions from around the world, here a mere five out of fifty tracks are devoted to other world genres (and that's a generous count: OK, a bit of plainchant, but Ladysmith Black Mambazo? Trio da Kali with The Kronos quartet? Hey!), choices like the Pathétique symphony or the Allegri Miserere hardly open our ears to new horizons. It's The Great Composers in a new costume. And though "music and ritual" is a rich topic in ethnomusicology, the site offers few links to further sources—even from its own output.
Inevitably, I think of the percussion coda Yellow Dragon Thrice Transforms Its Body of the Li family Daoists, that concludes their Transferring Offerings ritual. Of course neither this nor most other ritual traditions around the world might work on the radio on their own. But listeners deserve more than the Usual Suspects like qawwali, "Find your inner peace with the sound of Buddhist chant", and "the oldest song in the world". Sure, they might not necessarily conform to the hackneyed message of Peace and Love, that cramped ghetto from which Neil MacGregor rescues us. But if the Radio 3 team had half his imagination (as I write, he's discussing royal power, sliding effortlessly from Zadok the priest to bronzes from Benin and China, with asides on Trump and Putin), they could have found more stimulating and offbeat tracks, even from their own archive—aboriginal dream songs, ritual shawm bands, Andalucian saeta, gospel, you name it. So Sacred river ends up undoing the fine work of Living with the gods. Do keep exploring Radio 3, which is full of creative programming—including—such as Late junction, Words and music, and notably The listening service.
Of course, what it needs is a TV series. Alas, since a little heyday in the 1980s there has been little appetite for informed anthropological documentaries on local cultural life—in which ritual features prominently.
Hey-ho. Just saying, like…