My time with Chinese shawm bands (most ubiquitous of performers for rural ceremonial) leads me to dabble mildly in studies of early European wind bands. So I'm struck by this detail of a 1520 Portuguese painting:
It makes an alluring image for reviews of Miranda Kaufmann's new book Black Tudors: the untold story, though it's familiar to musicologists on the period—leading me to a glimpse of some of the fine work that scholars do for early European organology. See these images—Keith McGowan's groundbreaking work on wind bands (which we await, um, breathlessly) encompasses social aspects of early European players of ethnic minority backgrounds—who, as in China, were generally low in status. And the painting is included in a survey by Will Kimball on early sackbut grips (and I thought my work was niche…)
That image comes from Portugal, but Kaufmann opens her book with a vivid account of John Blanke, trumpeter at the Tudor court.
As she notes, African musicians (mostly wind players) had been playing for European monarchs and nobility since the 12th century. More commonly represented in painting are Middle-Eastern shawm bands, as in Carpaccio's Baptism of the Selenites.
So if the 1520 Portuguese painting is the earliest surviving representation of a black trombonist, then when was the next, eh? Before the 20th century?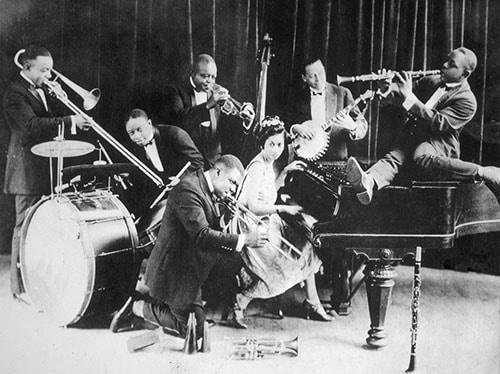 Moving laterally (like a trombone slide), here's Melba Liston:


While we're about it, any excuse to cite Some like it hot:

And Vermeer's The art of painting attracts as much interpretation as Las meninas:
* * *
Now, much as I admire Chinese music historians and the many fine collections of early iconography of Chinese instruments, I wonder if the Confucian habit of merely citing early written sources without discussing them applies in that field too: beyond merely displaying images, we need to interpret them.
While I'm on the subject, citations of early texts by Chinese scholars seem to assume we all know what they mean; they feel no need to translate them into modern Chinese. Yet when I query how to translate such passages, even the best scholars aren't necessarily clear—and the uncertainty is precisely why we need to discuss them.
* * *
On a topical note, I caught a glimpse on the news recently of a shawm band playing for a demo in troubled Catalonia. Among the amazing regional variety of folk culture in Spain (e.g. Valencia and Rioja, not to mention flamenco), folk Catalan double-reed instruments include gralla, tarota, tible, and tenora.
For links to posts on shawms around the world, click here; for a handy list of posts on trumpets, wind and brass bands, here (see also trumpet tag).