Following the riches of Bach on Radio 3 and my recent survey: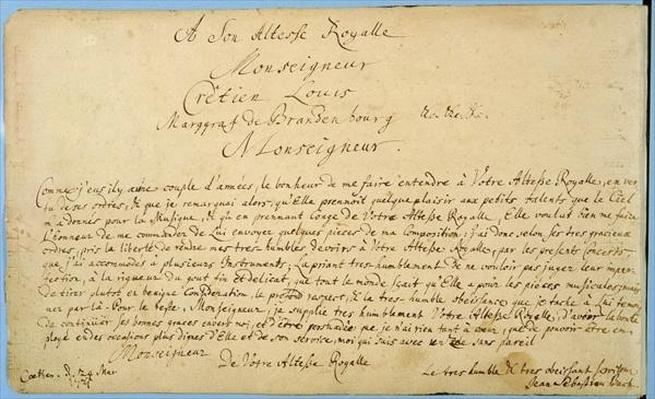 Bach's letters to his patrons are a sad vignette on the sordid realities of working for them. Along with his unsolicited gift of the Brandenburg concertos to the Margrave of Brandenburg ["What does that even mean?"], he wrote this covering letter (in French, courtly language of the time), dated 24th March 1721:
As I had the good fortune a few years ago to be heard by Your Royal Highness, at Your Highness's commands, and as I noticed then that Your Highness took some pleasure in the little talents which Heaven has given me for Music, and as in taking Leave of Your Royal Highness, Your Highness deigned to honour me with the command to send Your Highness some pieces of my Composition: I have in accordance with Your Highness's most gracious orders taken the liberty of rendering my most humble duty to Your Royal Highness with the present Concertos, which I have adapted to several instruments; begging Your Highness most humbly not to judge their imperfection with the rigor of that discriminating and sensitive taste, which everyone knows Him to have for musical works, but rather to take into benign Consideration the profound respect and the most humble obedience which I thus attempt to show Him. For the rest, Sire, I beg Your Royal Highness very humbly to have the goodness to continue Your Highness's greatest favours towards me, and to be assured that nothing is so close to my heart as the wish that I may be employed on occasions more worthy of Your Royal Highness and of Your Highness's service—I who, without an equal in zeal, am, Sire, your Royal Highness's most humble and obedient servant.
Sure, we have to read such a letter in the context of the day, but it's hard to beat for brown-nosing. Servants indeed— to cite Dennis in Monty Python and the Holy Grail,
… exploiting the workers! By hanging on to outdated imperialist dogma which perpetuates the economic and social differences in our society… We're living in a dictatorship! A self-perpetuating autocracy, in which the working classes…
Didn't know we had a king. I thought we were an autonomous collective.
And there's no evidence that the Margrave even wrote back. Pah! I hope Bach told him where to stick it. He might have well as sent the concertos to Tweety McTangerine.
Bach had been happy at Cöthen, where Prince Leopold was an exceptionally musical patron—Bach's need to seek new employment has been blamed on the Prince's "airhead" new wife (typical). With the Margrave deaf to his appeal, Bach was soon to find a permanent haven in Leipzig—and the rest is geography. Even there his struggles with patrons continued.
Thing is, despite all such routine tedious scramblings, Bach never stopped creating a wealth of music that stands as a rebuke to all mundane concerns.
And so in imperial China—right down to today, as a chain of fawning operates from grass-roots performers to regional cadres to central pundits. Only with less magical results.
I trust I shall have the honour to remain your faithful and humble servant
Dr S. Jones (available for weddings, bar mitzvahs, and screenings of my film Li Manshan: portrait of a folk Daoist)