This little digest is partly by way of cajoling my friend Nick, distinguished tenor
[cheap at the price], into unleashing his amazing anagram tales on the world
(now featured on this blog: roundup here!).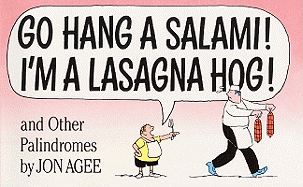 Wordplay in English and other languages (not least Chinese) displays dazzling and indeed warped creativity. For "constrained writing", the oeuvre of Oulipo is most celebrated.
I'll content myself with one anagram, on Mike Keith's fine site, an extraordinary version of Dante's Inferno:
This is a simultaneous anagram and translation. The English text is both an anagram of and an approximate translation of the first four tercets of Canto III of Dante's Inferno, from the original 13th-century Italian.
Original:
Per me si va ne la citta dolente
Per me si va ne l'etterno dolore
Per me si va tra la perduta gente.
Giustizia mosse il mio alto fattore;
Fecemi la divina podestate,
La somma sapienza e 'l primo amore.
Dinanzi a me non fuor cose create
Se non etterne, e io etterno duro.
LASCIATE OGNE SPERANZA, VOI CH'INTRATE.
Queste parole di colore oscuro
vid' io scritte al sommo d'una porta;
per ch'io: "Maestro, il senso lor m'e duro."
Anagram:
I am a portal to a sad place.
I am a cover to eternal fire.
Go, see our pit ooze craven memories.
Elite persistence moved some creator;
Divine omnipotence created me;
I am solo orgies of primal love.
Listen: ere me no denizens used our portal
I quit not, and I last eternal.
FOREGO ALL HOPE, ALL MEN THAT ENTER.
Crazed and curious, in a daze I sat
To see man pour out over a portal;
So I said: "Master, I cannot see its import."
For more succinct anagrams, see Igor Stravinsky; Charles Mackerras; Darcey Bussell—and Maidstone (an unlikely venue for their rendition of the Rite of Spring). See also
* * *
Among palindromes, [1] I've always been fond of
T. Eliot, top bard, notes putrid tang emanating, is sad. "I'd assign it a
name: gnat dirt upset on drab pot toilet"
—attributed to Alastair Read rather than W.H. Auden, it seems.
I like the sound of the Finnish palindrome with 10,102 words—even if, as one commentator candidly observes, "It's really not that much fun." We can limber up with some shorter ones (here), like
saippuakuppinippukauppias—soap cup batch trader
[SJ: Aha, perhaps this is useful as Elk lubricant?]
The following are to be found on the sites
http://palindromist.org ("Wary, Alpine Zen: I Play Raw") and
http://www.cadaeic.net/palind.htm
They can be elegant and suggestive:
Rot, cello collector!
Mao bore Jeroboam.
No more Cicero, mon! [the Rastafarian has had his fill of the classics.]
 Overheard at the flea-market:
"Camel bible, Mac?"
"Cameraware, Mac?"
or the fine
An igloo costs a lot, Ed!
Amen. One made to last! So cool, Gina!
Now Derek can kiss Anais A. Nin, as I, an ass (I, knackered) won.
[extra points for proper names, as Mike Keith notes—the more evocative the better]
Olson, I won—see Saratoga repossess opera! Go, Tara, see Snow in Oslo.
Ajar? Aha! Maybe, Dan, omelet is opposite lemonade, by a Maharaja!
Some men interpret nine memos.
And longer ones like
"Traci, to regard nine men in drag," Eric (in a play or an ironic art spot) warned, "I am not so bad." "I'd never even seen knees … never even did a Boston maiden raw," tops Traci, "nor in a royal panic. I regard nine men in drag —erotic art."
Or a poem:
Amen, Icy Cinema [title and poem are separate palindromes]
Amen, I can!
I stop elastic ire
To see La Dolce Vita.
Covet?
I moisten nose,
Sonnets I omit, evocative clod!
Ale? Esoteric?
It's ale! Pots in a cinema!
There are word-unit palindromes too:
You swallow pills for anxious days and nights, and days, anxious for pills, swallow you.
And sure enough, some have risen to the challenge of the palindromic haiku (work in progress), like this one by Ailihphilia (sic):
Oak, dove, temple: hymn
In mutual autumn, in my
Helpmete vodka. O!
Or some by Dalibor.
And then for the gourmet, there's the menu from the "Moor Room", a restaurant for palindromists:
Do, O Food [main course]
Tangy gnat
Koalas a la OK
La emu meal
Salad, alas
Gorge Grog [drinks]
Regal lager
Lemon o' Mel
Desserts Stressed
Sugar a Gus
Bananas an' a Nab
Some entries from "Drown In Word", the (fictional) palindromic dictionary:
Gigolo:  Solo gig.
Paranoia:  I, on a rap.
Semantic:  It names.
Pa Plato:  Total pap.
This (from here) is pleasing:
I note that "fear of palindromes" is Aibohphobia.
Finally, the erudite David Hughes, himself no mean songster, draws my attention to this:
* * *
True, while any sophisticated artistic activity (which perhaps excludes the KKK songbook and poetry competition) may be seen as a bulwark against philistinism, none of this quite butters any parsnips in the task that currently confronts us—to resist with every pore the barbarity of the putrid tang emanating from the drab pot toilet of the White House. T. Eliot, top bard, would have been sad too. I'd assign it a name, all right.
[1] See e.g.
http://www.cadaeic.net/palind.htm
http://www.cadaeic.net/silopolis.htm
https://www.theguardian.com/notesandqueries/query/0,5753,-2762,00.html
https://www.dailydot.com/debug/worlds-longest-palindrome-sentence/